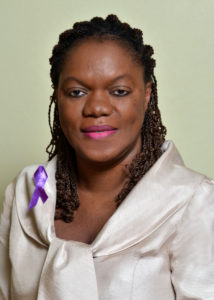 Cynthia Pitter, PhD (cand.), MScN Ed., Cert. Advanced Nsg. Admin, RN, RM,
Mrs. Cynthia Pitter is a Lecturer at the UWI School of Nursing, Mona. Her career spans over 20 years practicing as a RN, RM later advancing to become a nurse/midwifery educator and leader. She is the midwifery representative for the PAHO/WHO Collaborating Centre for Nursing and Midwifery in the Caribbean at the UWI, Mona. She coordinates the MScN programme at the UWI School of Nursing, Mona.
She is a member of the Global Alliance for Nursing and Midwifery and Caribbean Honour Society of Nursing (Sigma Theta Tau International). She serves on the executive committee of the Caribbean Regional Midwives' Association as a midwifery educator and Trustee. She is a coordinator for the Young Midwifery Leadership programme in the English-speaking Caribbean. She is a trained Sexual and Reproductive Health Researcher and a member of the Geneva Foundation for Medical Education and Research, Geneva, Switzerland.
She serves locally as the midwifery educator for the Jamaica Midwives' Association and represents the Association on the Nursing Council of Jamaica. She volunteers at the Women Incorporation and serves as a director at the Jamaica Family Planning Association.
She has a MScN Ed and is currently pursuing her terminal degree at the Institute for Gender and Development Studies, Regional Coordinating Unit, UWI. Her current research and published articles are focusing on Gender-Based Violence in Pregnancy.