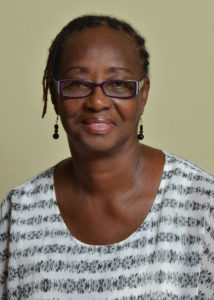 Carmelita Wheeler, RM
Mrs. Carmelita Wheeler boasts a distinguished career in the field of midwifery. She is a former 1st and 2nd Vice President of the Jamaica Midwives Association (JMA) and has also served that Association as Secretary and Treasurer. She served on the Council's Nurses and Midwives Committee and currently serves on the Evaluation, Nursing and Midwifery Practice Committee.
A Deaconess at the Yallahs Baptist Church Mrs. Wheeler is also the Chair of her church's Caring Ministry and is also a Sunday School teacher. Mrs. Wheeler is the President of the Women's Federation of Yallahs Baptist Church. She is also a member of her the Southaven Citizens Association.
Mrs. Wheeler has received several Long Service Awards in the field of Midwifery. In 2004, she also awarded received a dedicated service to the citizens of that parish. She has also been recognised by the JMA as well as Nestle for long and dedicated service to the field of Midwifery.