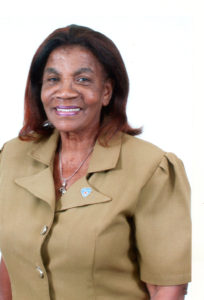 Graceline Satchell, BSc HRM, Psychiatric Nurse, RN, RM
Miss Graceline Satchell is the Chair of the Council's Nursing and Midwifery Education and Monitoring Committee. She is a part-time Lecturer at the In-service Education Department, Ministry of Health.
An experienced clinician who holds certification in Clinical Teaching; Miss Satchell is also a preceptor at one of the country's nursing school.
Miss Satchell has received several awards for long and meritorious service to the health profession. She is the recipient of the Jamaica Civil Service Long Service Award; the South East Regional Health Authority (SERHA) Award for Sterling Contribution to Health, the Sangster's Award for Clinical Excellence and a host of other special awards for invaluable service to health. In 2006, the University of the West Indies awarded her for Unselfish Contribution & Continued Interest in the education of nursing students in the field of Psychiatry.
A civic minded individual, Miss Satchell serves as the secretary for her Strata and Citizen's Association.